SFU purchases Star Solutions IMPAC Deployable for Research and Development
in Band 14 LTE Public Safety Broadband Communications.
Vancouver, B.C., Canada, June 5, 2014 – Simon Fraser University has become a key resource in researching and testing solutions for concepts for Public Safety Broadband Networks in Canada. SFU has recently acquired Star Solutions' IMPAC product, a band 14 LTE all-in-one deployable solution, as a platform for functional and interoperability testing.
Public Safety First Responders have been relying on LMR (Land Mobile Radio) for voice communications for many decades. Many advanced services that require high-speed data cannot be supported with current LMR systems. With the radio spectrum recently allocated to the Public Safety community to deploy a broadband LTE network, a whole new set of potential applications opens up that was not available before such as: access to the Internet, video conferencing, location tracking, real time video surveillance, eMedicine, and others. Star Solutions manufactures and supplies a range of end-to-end LTE mobile network solutions including operating in the Public Safety frequency spectrum (LTE band 14).
Star Solutions offers a unique, compact deployable solution, named IMPAC, which has a built-in EPC and eNodeB, ready to operate as a complete standalone network. The IMPAC is backpackable, extremely useful for as an emergency backup network, and for providing service in areas outside city limits that have no network coverage. The IMPAC is simple to operate, fully functional in minutes, and can be powered by vehicle battery or the optional battery pack. Controlled by only a single switch, the IMPAC provides a complete operational 700MHz LTE Band 14 network within minutes. Public safety broadband network operators can use the IMPAC to extend the network reach, fill-in coverage holes, or quickly restore services for first responders in the aftermath of a disaster.
The IMPAC System combines a 4G LTE packet core network (MME, S-GW, PDN-GW, and HSS) with an integrated eNodeB functions into a backpackable, battery-powered unit. Combining all the key components of an LTE network into a single self-contained unit is no easy task and takes years of experience to accomplish. This single-box portable solution allows First Responders with the flexibility to maximize services of Public Safety networks wherever they are.
Recent global events and incidents have shown that communications networks can be disabled for multiple days following a natural disaster. First responders need the public safety broadband network to be available during these most critical times. Dr. Stephen Braham, Director of the PolyLAB unit of the SFU Telematics Research Laboratory, says "The terrain and risks in Canada require that we must be able to deliver critical communications technology by foot and by small land and air vehicles, and so we need an LTE solution that can be back-packed to where it needs to go."
Jack Mar, CEO of Star Solutions says, "As a deployable unit, the IMPAC System is a necessary part of any public safety network solution. In addition, when not being employed for tactical use, the system can offer key stakeholders and practitioners a captive network to new test devices, applications, and emergency management scenarios prior to deployment in the operational network."
As evaluations, research and testing progress, Star Solutions is committed to supporting SFU by developing new features and functionalities that will enhance capabilities and services available to First Responders worldwide.
For more information about the IMPAC System, including a demonstration video, please visit our website at https://www.starsolutions.com/products/system-products/impac-system/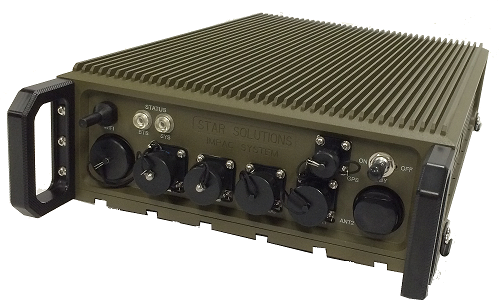 About Star Solutions
Star Solutions is a leading supplier of mobile network infrastructure solutions with special focus on Rural/Remote, Enterprise and Rapid Deployment/Disaster Recovery applications. Star Solutions' experience includes rural deployments in over 30 countries; majority of the cruise ships worldwide; private Enterprise mobile network for Mines, Oil & Gas and Prisons; Rapid deployment systems for disaster relief, military and emergency public safety communications.
About Simon Fraser University Telematics Research Laboratory
The Simon Fraser University-based Telematics Research Laboratory is an internationally-recognized location for cutting-edge critical ICT systems R&D, working in areas ranging from Public Safety to human space exploration. With a wide range of facilities, including vehicles, a satellite teleport, and three laboratories, and extensive field experience and field support equipment, SFU is well-positioned for leading R&D in field-based Public Safety R&D.
https://www.starsolutions.com/wp-content/uploads/Star-Solutions.png
0
0
SSI.Marketing
https://www.starsolutions.com/wp-content/uploads/Star-Solutions.png
SSI.Marketing
2014-06-05 08:00:10
2018-08-01 14:03:51
Simon Fraser University: LTE Band 14 Deployable